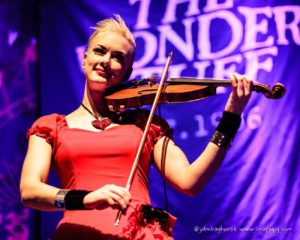 Acclaimed British violinist Erica Nockalls is to join the Immaculate Fools for gigs planned for Spain and elsewhere in the spring and summer of 2018. Kevin Weatherill and Erica are friends and collaborators from his days living in Wales when Erica and band mate Miles Hunt were neighbours. Erica and Miles are both members of the seminal UK band The Wonder Stuff. Erica also played violin on Big World for a Little Man album by Kevin's alter ego Dirty Ray.
Erica is a classically trained violinist and attended the Birmingham Conservatoire. She has played live and recorded with many rock and indie bands including the Proclaimers and the Mission.
Erica also plays piano and guitars and sings and has her own band too! Her first solo album Imminent Room was released in 2013.
Links: The Wonderstuff   Erica Nockalls   Press Release
Photo by John Hayhurst